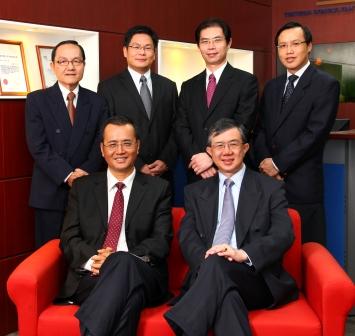 | | | |
| --- | --- | --- |
| | Tritech Group Limited - Board of Directors | |


Professor Yong Kwet Yew, Non-Executive Chairman and Independent Director, Tritech Group Limited


Dr Jeffrey Wang, Managing Director cum CEO, Tritech Group Limited


Dr Cai Jun Gang, Executive Director, Tritech Group Limited


Dr Loh Chang Kaan, Executive Director, Tritech Group Limited


Mr Aw Eng Hai - Independent Director, Tritech Group Limited


Professor Yong Kwet Yew, Non-Executive Chairman and Independent Director
Tritech Group Limited

Professor Yong Kwet Yew is our Non-Executive Chairman and Independent Director appointed as a Director on 9 june 2008. Professor Yong is a highly regarded geotechnical specialist in Singapore and Southeast Asia. He holds a PhD from the University of Sheffield, UK and has delivered 25 keynote and guest lectures at international conferences and published more than 200 technical papers. He has also served as consultant to over 100 major construction projects in the region. Professor Yong was President of the Souheast Asian Geotechnical Society and chairs several government advisory committee and professional committees. He has received many awards including the Public Administration Medal, the Public Service Medal and Public Service Star in 2000, 2004 and 2008 respectively. He is a fellow of the institution of Engineers, Singapore, and Accredited Adjudicator and a member of Singapore Institute of Directors. He is a registered Professional Engineer in Singapore.
As our Group's businesses are largely related to geotechnical engineering and ground engineering, Professor Yong, through his expertise in the geotechnical field, would be able to provide our Group with invaluable guidance and strategic business direction. Professor Yong would be able to share his experience and professionalism in the geotechnical field with our Group which will help to ensure that our Group continues to provide high quality professional geotechnical services as a reputable specialist engineering firm in Singapore and the region. In addition, given Professor Yong's past experience and established business network as a consultant in major construction projects, this will be useful to our Group's future plans to expand our business in the region.
Professor Yong is currently also a Non-Executive Chairman and an independent director of BBR Holdings (S) Ltd and a board and executive committee member of the Land Transport Authority.
Dr Jeffrey Wang, Managing Director cum CEO
Tritech Group Limited

Dr Jeffrey Wang is the managing director of Tritech Group Limited. He is responsible for the overall operation of the program, including strategic planning, administration and marketing. He is a modern and forward looking migrant from China.
He obtained his first Ph.D degree from the Chinese Academy of Sciences in 1989, and was conferred his second Ph.D from the National University of Singapore in 2004. He is a registered Professional Engineer in Singapore. In addition to numerous awards received throughout his career, Jeffrey was a Guest-Professor of Shanghai Jiaotong University, China.
Ever since Jeffrey came to Singapore in his twenties, he had been actively involved in many consultancy, construction and engineering projects in Singapore. He was in charge of the design and supervision for more than 100 projects in Singapore and overseas. He was the technical leader for a number of mega infrastructure projects in Singapore.
In 2000, Dr. Jeffrey Wang initiated his own business venture, Tritech. With enduring efforts spanning a few years, Tritech rapidly become a group of companies with a wide range of business scope from design, consultancy, site investigation, instrumentation & monitoring, engineering survey, ground engineering to construction. Jeffrey hopes to establish a group of companies to provide an array of new technologies for customers in our region.
Dr Cai Jun Gang, Executive Director
Tritech Group Limited

Dr Cai Jun Gang came to Singapore in 1994 with the award of scholarship from Nanyang Technological University (NTU), obtained MEng & PhD and then worked as Research Fellow in the same university from 1994 to 2001.
Dr Cai has been a key researcher and specialist consultant involved in a lot of R&D projects related to underground space utilization and development in Singapore, which are funded by National Science & Technology Board (NSTB), Defence Science & Technology Agency (DSTA), Urban Development Authority (URA) and Jurong Town Corporation (JTC). He is active in society activities. He is the Hon Secretary General of Singapore National Group of International Society for Rock Mechanics (ISRM), and the Member and Hon Secretary of International Symposium of ISRM. As a researcher and specialist consultant, Dr. Cai has published more than 100 technical papers in international journals and conferences in the fields of engineering geology, site investigation, geophysical exploration, hydrogeology, groundwater & water technology, rock mechanics & rock engineering, tunneling engineering, geotechnical instrumentation & monitoring, numerical modeling and computer applications.
Dr Cai is one of the founders of Tritech, and devotes his life to the company's business development, management and operation. He always cherishes sincere hopes to apply new technologies & research achievements into practical engineering projects, towards the purpose of providing innovative solutions to engineering problems.
Dr Loh Chang Kaan, Executive Director
Tritech Group Limited

Dr. Loh was born in Malaysia in Year 1969 and became a Singapore Permanent Residents in 1994. With a study grant from Kuok Foundation, he graduated with a Bachelor Degree in Civil Engineering (1st Class Honours) from the University Technology of Malaysia (UTM) in Year 1993.
He was awarded the prestigious Tunku Medal by the Tunku Abdul Rahman Foundation, Ministry of Education Malaysia, as the Best Graduate of the Year (1993) for UTM.In Year 1994, Dr. Loh furthers his study at the National University of Singapore and obtained his M.Eng and Ph.D degrees in engineering.
Dr. Loh is a registered Professional Engineer in Singapore and Malaysia. He has been actively involved in many consultancy, construction and engineering projects in Singapore and Malaysia. He is a specialist in ground engineering works and played important roles in major civil engineering and building projects. He is an invited speaker and trainer for various seminars and training courses for deep excavation construction and geotechnical monitoring works.
Dr. Loh is an idealistic and practical entrepreneur. He in charge of business and technical development, operations and commercial issue of subsidiaries companies. He played an important role in setting up Tritech competitive setup and growing it from strength to strength.
Mr Aw Eng Hai, Independent Director
Tritech Group Limited

Mr Aw Eng Hai is our Independent Director appointed as a Director on 4 September 2009. Mr Aw is a public accountant and a partner of Foo Kon Tan Grant Thornton LLP where he is in charge of the various departments providing specialist advisory services. He has more than 10 years or experience providing business advisory services to companies. Prior to joining the commercial sector, Mr Aw was an investigator in the Commercial Affairs Department (CAD) where he was involved in complex commercial fraud investigation.
Mr Aw is a practicing member of the Institute of Certified Public Accountants of Singapore (ICPAS), a fellow of the Association of Chartered Certified Accountants (ACCA), a Fellow of Insolvency Practitioners Association of Singapore (IPAS) and a member of INSOL International.